Many brides looking for that
something memorable to add to their special day are turning to customs from other cultures — "OurChuppah.com" produces custom wedding canopies that personalize the event and can make the moments last.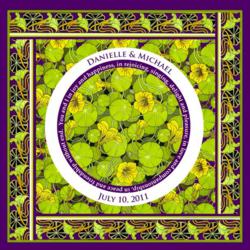 The idea of a wedding canopy can be used in any wedding, whether Jewish or not. It provides a beautiful focal point and setting for the marriage ceremony.
Rochester, NY (PRWEB) August 28, 2012 Levy's rye bread may have coined the phrase, "you don't have to be Jewish…" but it's still true today that we can all borrow and enjoy each other's meaningful customs. That is especially true when planning a wedding ceremony.
A desire for something special at a wedding ceremony as well as providing a keepsake for the newlyweds. The traditions of a Jewish wedding ceremony can be adopted and adapted to fit both religious or secular tastes as the bride and groom see fit. One of those Jewish wedding traditions is that the groom's parents both walk him down the aisle as do the brides parents. In these days of equality and inclusion, it's seen as a nice way to provide both parents with a meaningful role in their child's wedding. The procession leads to a chuppah (sometimes spelled huppa or huppah and pronounced — hoo-new company — OurChuppah.com — offers a unique product that meets the pa), which is a wedding canopy, used at both indoor and outdoor ceremonies.
The chuppah represents the home the couple will build together, open on all sides to welcome family and friends. The canopy or chuppah is supported by four poles, either secured in the ground or in pots of greenery and flowers or by four honored guests or members of the bridal party. There is no religious rule for the design of the chuppah. Traditionally it can be a prayer shawl, heirloom tablecloth, bedspread, quilt, or an original piece of art.
Artist and Graphic Designer Debra Burger of OurChuppah.com creates satin chuppahs based on Middle Eastern tile designs, floral patterns, stained glass, and famous works of art. Her chuppahs have been customized to include the couple's names, date of the wedding and a favorite inscription or wedding vow.
"The idea of a wedding canopy can be used in any wedding, whether Jewish or not. It provides a beautiful focal point and setting for the marriage ceremony and can be used as a wall hanging or coverlet in the bride and groom's home — a beautiful keepsake of their special day," says Burger.
"Working with couples to make their chuppah a meaningful work of art that compliments their design aesthetic is the most rewarding part of the process," she says. Knowing that this may be the one object that represents their wedding ceremony and will be cherished for years to come - maybe even passed from one generation to another - is a wonderful concept.
Burger began designing chuppahs with the canopy for her own daughter's wedding- one based on a painting by Marc Chagall. That chuppah was passed along to the groom's brother who was also married beneath it. The chuppah became a beautiful backdrop for the wedding cake at the reception for all the guests to enjoy up close.
"When my own daughter was going to be married, we discussed her desire to have something special, something that would be remembered long after the event was over," says Burger. "So we researched the options that were available and found that there were not many options for something unusual and memorable. It was then that I decided to design my own special version of the traditional wedding chuppah. The result was so well received that everyone who saw it encouraged me to create other designs for their friends and family. It was there that the idea for a website offering my designs was born."
The canopy is made of a fabric that includes an ornate and beautiful design. The design includes an appropriate sentiment in words chosen by the bride and groom and the date of the event. It is secured to poles at each of the four corners that are either freestanding or held up by honored members of the wedding party.
"Many couples even pass on the canopy to other members of the family and add their own names and dates, says Burger. "It becomes a family heirloom and a source of pride in the family as an important piece of art passed down from generation to generation. It makes me very proud to be part of this important tradition."
The custom has become so well thought of, that even non-traditional ceremonies and non-Jewish brides and grooms are embracing this charming way of demonstrating their commitment to one another. Whether borrowing a custom from one religion or culture or starting your own tradition, the wedding ceremony can be as individual as the bride or groom.
For more information on the background of the wedding canopy, a complete gallery of images and a list of frequently asked questions, go to
http://www.OurChuppah.com
or contact Debra Burger at 917-576-4509 or info(at)ourchuppah(dot)com