forbes.com
examiner.com
Cycling Women. Gold medalist Kristin Armstrong
idahostatesman.com
Missy Franklin, Jessica Hardy, Lia Neal and Allison Schmitt of the United States celebrate with their bronze medal during the the Medal Cermony for the Women's 4x100m Freestyle Relay on Day One of the London 2012 Olympic Games at the Aquatics Centre on July 28, 2012 in London, England.
Philip Hindes, Jason Kenny and Sir Chris Hoy celebrate with their gold medals after setting a new world record in the Men's Team Sprint Track Cycling final. Sir Chris Hoy now has five gold medals to his name... Incredible display by Sir Chris and Team GB! Picture
marieclaire.co.uk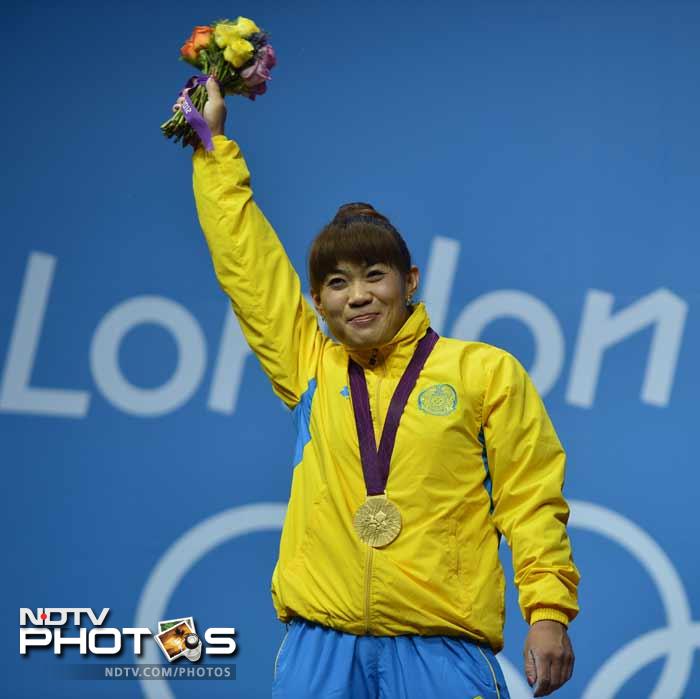 Kazakhstan's Maiya Maneza poses on the podium with her gold medal for the women's 63kg group A weightlifting event at The Excel Centre in London on July 31, 2012 during the London 2012 Olympic Games
United States' gold medal winner Michael Phelps shakes hands with teammate and silver medalist Ryan Lochte after the medal ceremony for the men's 200-meter individual medley swimming final at the Aquatics Centre in the Olympic Park during the 2012 Summer Olympics in London, Thursday, Aug. 2, 2012.
nj.com
China's Chen Ruolin (L) and Wang Hao pose with their gold medals after winning the women's synchronised 10m platform final at the London 2012 Olympic Games at the Aquatics Center July 31, 2012.
This Italian team of Di Francisca, Errigo and Vezzali are the only national female squad, across all three weapons of foil, epee and sabre, to sweep the individuals and take team gold in a single Olympic Games.